Bio
 "She puts a lot into it, her hands turning and clenching in the air, as though to squeeze every ounce of emotion out of each song. She doesn't just sing; she wrenches each song out of the ether."  T.W. Burger, Gettysburg Times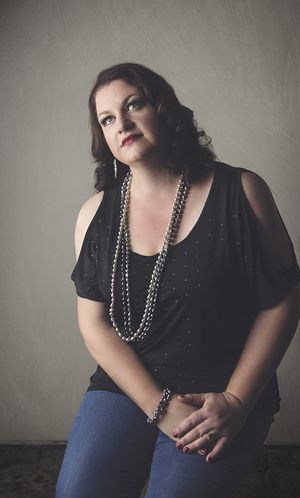 Decades of honing and refining a unique vocal style, multiple recordings and a plethora of stage performances have cemented Kerensa Gray's reputation as not only a singer but also a storyteller, composer, and teacher. Often compared to jazz royalty the likes of Ella Fitzgerald, Etta James and songstresses of past generations, she interweaves elements of Jazz, folk, blues,  R&B, and classical to create sound that is undeniably hers.
Kerensa was born in May 1973 in the small mountain community of Cumberland, Md. While neither of her parents were formally trained musicians, music was the language that was most fluently spoken in the Hetz househould.  Rock, blues, folk, and classical were the soundtrack to a simple childhood.
At 9 Kerensa fell in love with the violin and found in it a voice that she longed to explore.   Piano soon followed, and though she was always singing in church and school choirs, serious asthma seemed to snuff out any dreams of finding her own voice until she reached high school and found encouragement and breathe training from her high school choir director.  "Other than my father, I owe my voice to my high school choir director Craig Schutz.  He is the one who challenged me to push past what I thought were my limits and instilled in me the importance of constant growth and experimentation. "
After many years pursing music in the church, Kerensa was encouraged to plunge into jazz.   As one who believes in going "all in" she entered the Billy Holiday Vocal Competition in 2009 to "find out how much I had to learn" and to her surprise won the Baltimore, Md based contest.  Kerensa followed up that win with her 2009 release of "Let me be me", a mix of gospel and jazz stylings with the support of Jazz guitarist Drew Davidsen.   In 2012 she joined Nashville, TN based Creative Soul Jazz and producer Eric Copeland to produce "Bliss" and her 2016 offering "Take Me In" and is currently working with Nashville based producer/arranger Jason Webb on her next project.
Kerensa currently resides in York, Pa with her husband Steve and their 2 furry children – Treble and Rico. 
For more information about Kerensa Gray Jazz including recordings & booking please visit www.kgjazz.com or email us at Kerensa@kerensagray.com .